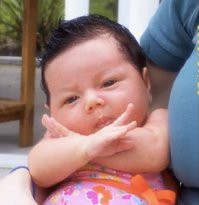 I came across these pictures yesterday on
Huffington post.
and I wanted to share it with you. there is a
Facebook Page
dedicated to this.and you have to check out their
website
where you can submit your own pics of your babies "throwing up gang signs".
Has your baby ever throw up gang signs or funny you want to share?
Image[Huffington Post]